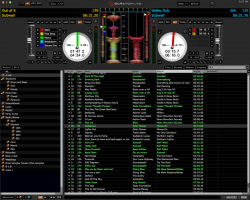 Serato Scratch Liveの最新バージョン2.4.2がリリースされました。
What is Scratch Live 2.4.2?
Note: Video-SL is no longer supported in Scratch Live 2.4 and above. Video-SL has been replaced by Serato Video, which is a free upgrade for all existing Video-SL customers. Download Serato Video 1.0
Features
Added Mixtape support for the Rane Sixty-One and Sixty-Two:
Record your Serato DJ performance as an Ableton Live Set, complete with song placement and fader movements. Then use Live's collection of effects, instruments and production tools to edit, enhance and polish your mix. Note: Mixtape requires The Bridge
Multi-channel layer support for the Sixty-Two:
MIDI mapping is now possible for all MIDI control/note values for the 2nd to 16th channel layers of the Sixty-Two. This requires the latest firmware updates. Get more information on how to use the Multi-channel MIDI layers for the Sixty-Two.
Release Notes
Read the full Release Notes for Scratch Live 2.4.2.
"Serato Scratch Live 2.4.2がリリースされました!"のYouTube動画
powered by Google
※関連のない動画が表示されることもあります。